When I was in school, one of my math teachers used to say "Once is luck, twice is chance, third time is a trend." To this day, it has stuck with me. Why is this important? Because over the last three years, the NFL has given us Martavis Bryant (2015), Tyrell Williams (2016) and Robby Anderson (2017). All three of them rose from virtual obscurity (the waiver wire) to become weekly starters that, not only significantly outperformed their ADP, but also raised their dynasty value. Reviewing advanced stats, metrics, and analytics player profiles, how were they able to succeed and what do they have in common?
Profile Comparison
Prospect Profiles
Physically, all three are around 6-3, 200-pounds, run sub-4.50 40s, possess above average athleticism and are known for being big-play deep threats who can go up and get those 50/50 balls. Most importantly, they all became valuable dynasty players in their sophomore season by being top 24 WRs in points per game.

Sophomore Season Comparison
Martavis Bryant: 50 receptions, 765 yards, six touchdowns (suspended first four games of the season)
Tyrell Williams: 69 receptions, 1,059, seven touchdowns
Robby Anderson: 63 receptions, 941 yards, seven touchdowns
Path to Success
So how did these players achieve success in year two? They all benefited from an increased snap/target opportunity share due to injuries and/or lack of talent in the wide receiver corps. Outside of Antonio Brown and Le'Veon Bell, Martavis Bryant only had Markus Wheaton and Darrius Heyward-Bey to compete with for targets in his sophomore season. Tyrell Williams had Keenan Allen go down for the season with a torn ACL in week 1 and only had Dontrelle Inman and Travis Benjamin to compete with in his sophomore season. This season, Robby Anderson had Quincy Enunwa, the Jets' No. 1 WR in 2016, go down for the season with a neck injury in preseason and only had inexperienced rookies to compete with on the wide receiver depth chart until the Jets traded for Jermaine Kearse.
Lack of depth and/or injuries to the incumbent No. 1 WRs often allow under-the-radar athletic wide receivers to rise up the depth chart and become valuable starters. Which sophomore wide receivers are capable fo a Robby Anderson-like ascendence in 2018?
The Next Robby Anderson
Here are three top candidates to be the next athletic, under-the-radar wide receiver breakout.
Amara Darboh, WR, Seattle Seahawks
Amara Darboh is 6-2, 214 pounds, runs a 4.45 (79th-percentile) 40-yard dash time and flashes above average athleticism across the board. His 33-percent (60th-percentile) College Dominator Rating is superior to Doug Baldwin, a slot receiver operating as the team's defacto No. 1 WR. As the only big, prototypical NFL X-receiver on the roster, Darboh is a prime candidate to replicate Martavis Bryant's sophomore success.
The Seahawks lack a pass catching back in the mold of Le'Veon Bell and have never really had one. In addition, it's very likely TE Jimmy Graham and WR Paul Richardson leave in free agency this offseason. If Seattle fails to adequately replace either of them, Amara Darboh should see a significant increase in snap/target share as the rest of the Seattle wide receiver group doesn't inspire much confidence.
Tyler Lockett – Entering his fourth year. He's fast but is otherwise a below average athlete for his size, and while he has flashed at times, he has yet to put it all together and has been hampered by various leg injuries throughout his career. At this point in his career, Tyler Lockett is who he is.
Tanner McEvoy – An undrafted talent with a whopping 1-percent Dominator Rating and runs a pedestrian 4.62 40. Not exactly someone who will strike fear in the eyes of the defense and definitely not someone you should be rostering.
David Moore – A very athletic wide receiver, and a highly productive college player, but is going to have an uphill battle for a roster spot as a 7th round pick. He's also 6-1 which is too short to meet the profile.
Seattle, with so few talented offensive players, is in prime position to invest in offensive weapons this off-season either via free agency or the draft, but with only $19 million in cap space, they will likely not be big spenders. Plus, if Cliff Avril and Kam Chancellor are indeed headed into forced retirement due to severe neck injuries, then the Seahawks will have even more holes to fill, in addition to their glaring needs along the offensive line. Wide receiver may not even be a priority for them, making Darboh an excellent end-of-the-bench upside stash.
Josh Malone, WR, Cincinnati Bengals
Josh Malone is 6-3, 208 pounds and runs a 4.40 (93rd-percentile) 40. While he lacks an elite burst score (9th-percentile) due to a sub-par vertical leap (and thus may struggle on 50/50 balls), he checks enough boxes, including a 35-percent (67th-percentile) College Dominator Rating, to be a candidate as the 2018 version of Tyrell Williams should anything happen to A.J. Green.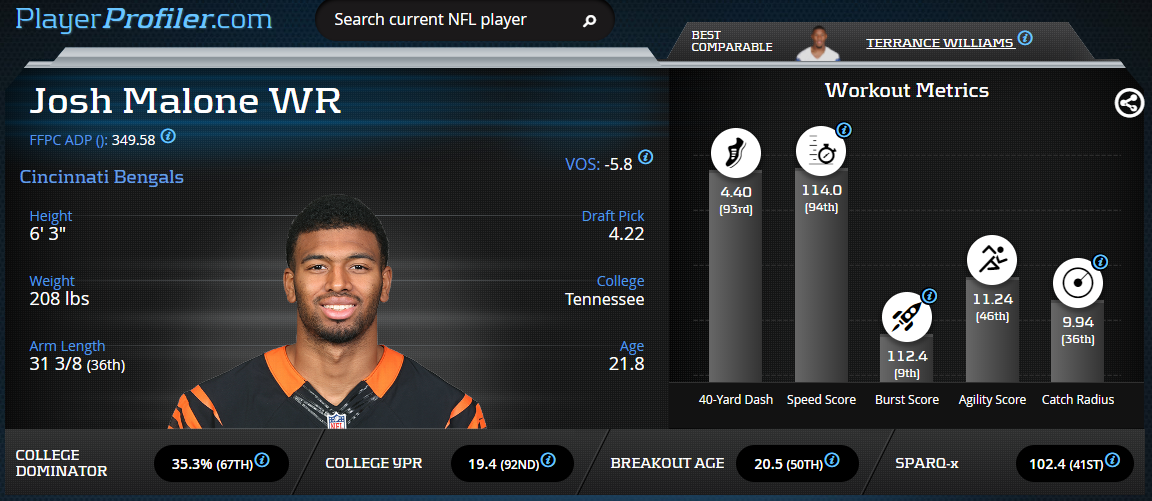 If the Bengals happen to lose A.J. Green for an extended period of time due to injury, who do the Bengals have to turn to as the WR1 in his absence?
Tyler Boyd – Has been a healthy scratch multiple times this year suggesting the coaching staff has given up on him.
Brandon Lafell – Will be 32 next season, has stone hands and isn't going to magically become a WR1 this late in his career. He's also a potential cap causality due the $4 million in savings he could create.
John Ross –He was their No.1 pick in 2017, but was quickly put into the doghouse after one fumble. Later he was either a healthy scratch or injured for the rest of the season. Finally, there was a report that the Bengals even considered turning him into a cornerback. Add in his long list of injuries dating back to college and this isn't the path a future WR1 takes in the NFL. Therefore, he's not someone to count on to make that leap.
Since the Bengals have spent top picks on wide receivers two years in a row, they likely won't be investing highly again this year, so look for mid- to late-round draft picks if they add a WR. Unless they add a prominent free agent, Josh Malone is in a good spot to become a valuable asset in 2018 and he's currently either free on the waiver wire or very cheap in trades making him a great value play for your team
Robert Davis, WR, Washington Redskins
Robert Davis is 6-3, 219 pounds, and runs a 4.44 (82nd-percentile) 40-yard dash time. Unlike Josh Malone and Amara Darboh, Robert Davis' WR prospect profile checks all of the requisite boxes. He is the top choice to be the 2018 Robby Anderson due to the lack of talent at the position in Washington.
Dominator Rating: 31-percent (51st-percentile) – Check
Speed Score: 115.8 (96th-percentile) – Check
Burst Score: 137.7 (99th-percentile) – Check
Breakout Age: 18.4 (97th-percentile) – Check
Washington signed Terrelle Pryor to be their WR1 this off-season and he failed miserably to live up to the contract, but luckily it was only a one-year deal so he's not likely to come back. So what's standing in the way of Robert Davis to become the No.1 guy next year like Anderson did with the Jets? Not much.
---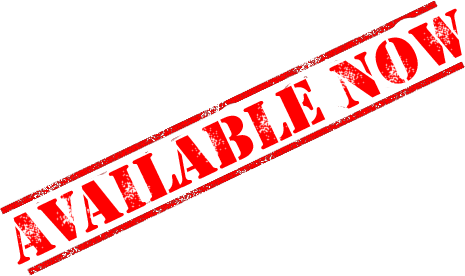 ---
Washington has recently invested top draft pick capital (Doctson) at the position and invested in free agency (Pryor), and neither has panned out. Perhaps they invest heavily again through the draft and/or free agency, but if not, this looks like a prime spot for Davis to rise up among the group and have a very valuable season in an offense that throws for 4,000 yards a season. Unless you're in deep dynasty leagues, Robert Davis is more than likely on your waiver wire and potentially a huge value for you to add to your bench this off-season for free.
So whether you are in rebuild mode, fresh off a championship or somewhere in between, find a way to get at least one of these 3 potential Breakout Candidates on your roster. They'll cost you very little to acquire for a player who can turn into a top 24 wide receiver, while posing very little risk to your team if they don't.